Fhtagn! - Tales of the Creeping Madness
Fhtagn!'s one year anniversary and first community-written story pack!
---
Grab the Wailing Gramophone, bust out the Maltese Cockerel, put on the Pinky Ring of Albrecht the Fabulous, it is time to paaaarty!
Today is Fhtagn!'s one year anniversary and in honour of this momentous occasion we have a special promotion to celebrate. The past year has been an incredible journey with many exciting developments. We've released the Dark Young expansion that included a new cult, new Ancient One, useable items, more stories, new game mechanics and more investigators. We've also made various improvements to the Fhtagn! Content Creator so that it is even easier to upload your own stories for the game (available on Steam Workshop. You get a Steam key with your Itch.io purchase).
We will also continue to upload the usual Fhtagn! story packs each month.
Community-written story pack
With a year of connecting with players and telling stories together, it is such a privilege to upload the first community-written story pack for players to enjoy. You can check it out here.
How does it work?
We provide our awesome community with a writing prompt on our Discord server (in the Story Time channel) and the community then writes amazing story contributions, which other members can vote on. Winning contributions are combined to create the final story event pack for players to enjoy ingame. After each completed Story Time event, the community mod will be updated with the new stories. Credits for contribution can be found in the Discord Community Mod sheet.
Don't miss out on future awesome story events and subscribe to the mod to see more stories written by the community for the community. If you want to be part of the fun, join our Discord server - That Fhtagn Server.
Talk about our Discord server, you can also get a delicious piece of chocolate cake from Fred O'Leary in the Madame Fufu's channel. What is a celebration without a Devilishly Delicious Chocolate Cake!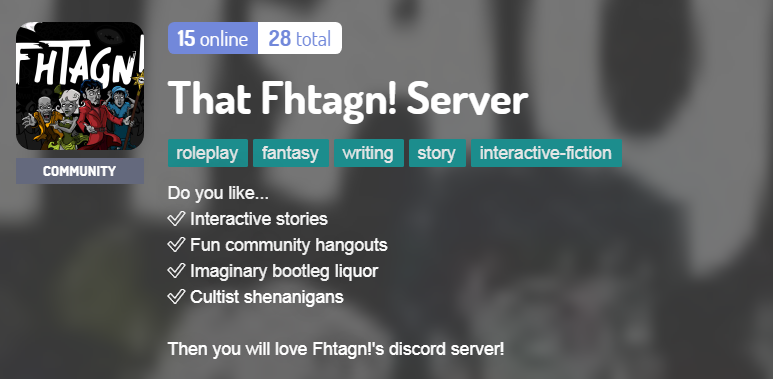 The Creeping Madness
Fhtagn!'s stories and world is based on our flagship title, The Creeping Madness, currently in concept development. Check out the Concept Reel below.
The Creeping Madness (TCM) is Black and White meets Evil Genius in the 1930s, inside a Lovecraft novel, with a hint of Dieselpunk. You are a Cthulhu-esque Ancient One hellbent on walking the mortal realm once more. Build up your cult in secret. Summon powerful monsters and play through tactical scenarios from your favourite Lovecraftian novels, as you slowly infiltrate, manipulate, corrupt and drive people insane to orchestrate your return.

We created Fhtagn! to raise extra funds for TCM, we are currently hard at work on this project and we hope to share more news about TCM with you soon!
Thank you for supporting Fhtagn!
We want to give a special thank you to everyone who has supported Fhtagn! and made this journey worthwhile. Every comment, every review, every video and every interaction with players has meant the world to us. We truly hope you enjoyed playing Fhtagn! as much as we enjoyed making it.
Get Fhtagn! - Tales of the Creeping Madness